24 Heroes in 24 Hours
CLICK HERE FOR TICKETS
FACEBOOK EVENT PAGE
On May 22, 2015, CrossFit Main Line in Ardmore, Pennsylvania, will host the 3rd Annual 24 in 24 event: 24 Heroes in 24 Hours. Starting at 0930 on Friday the 22rd, athletes will perform a "Hero WOD" every hour for 24 straight hours.
This 24 hour event serves as a fundraiser for the Silent Warrior Scholarship Fund  (http://www.silentwarriorscholarshipfund.com/) The Silent Warrior Scholarship Fund (SWSF) was set up by Reconnaissance Marines in memory of their fallen brothers, and awards scholarships to any college-bound person based on direct familial relationship to a Reconnaissance Marine.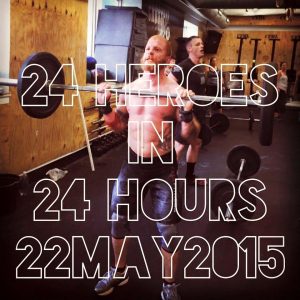 All ticket sales will be donated to the Silent Warrior Scholarship Fund.
About the 24 Heroes in 24 Hours:
The Hero WODs from CrossFit are named after Heroes who have given their lives in the line of duty – military or civilian.   Each workout is hard, heavy, and long.  This isn't an easy event.  This year, we will publish the list of Hero WODs in advance of the event, so that our athletes and supports can be prepared for the workouts.    

Among the list of workouts to be performed:
*  "JJ", named for U.S. Marine Lance Corporal Justin James "JJ" Wilson, will be held at 5:30 PM Friday night;
*  "Bear Shark":  This WOD is in memory of three Marines who were killed in action in 2010 will be our "kick-off" WOD at 09:30 AM on Friday;
*  "MURPH", named for Navy Lieutenant Michael Murphy (SEAL) will be held as the 24th workout of the event, at 08:30 AM on Saturday the 23rd.
There is NO expectation that all athletes perform ALL WODs.  This is a fundraising event FIRST, Endurance event second.  We want lots of folks to sign up so that we can increase the overall donation amount to the SWSF.  Of course, we would love to see you knock out as many WODs as you want to safely perform.  But we're here for what the event MEANS more than the physical challenge of 24 separate HERO WODs.


All Athletes should come prepared to tackle any workout and familiarize themselves with the basic components found in the Hero WODs:  Bring your running shoes (there will be several miles of running – sometimes 400 meters at a time), weightlifting belts, weight VESTS (if you have one), wrist wraps, change of clothes and socks, calf sleeves (yup, there are rope climbs) and anything else that helps to get you through two dozen high intensity workouts.
As with the last two years of this event, we will have a "team" format available:  this allows for teams of up to four athletes to share the workouts and distribute the movements among their teammates to complete the WOD.  The first six WODs will be individually performed, the next 6 as a team, the third set of six again as individuals, and the final six will be team efforts.  MURPH, the final WOD, will be completed as a team with all remaining athletes grinding out the last 2 miles of running, 100 pull-ups, 200 push-ups, and 300 squats.
There are several restaurants in the area near CrossFit Main Line (one of our favorites is Barbacoa (http://barbacoaud.com/), which is not even a block away and has some of the best BBQ chicken around) and Jeannie's Deli ( on the corner by CFML! great breakfast sammiches!!!) but athletes are encouraged to bring a cooler and sufficient food to make it the full day without too many outside meal options.  Water, sports recovery drinks, coconut waters, whatever it takes to stay hydrated and functional.

All athletes will be required to sign a liability waiver, as this event is far beyond the typical CrossFit workout or endurance event.
In addition to the tickets for the event, we will make custom event T-Shirts available for separate purchase.  These are currently being created, and – like the ticket sales – all proceeds from shirt sales will be donated to the SWSF.  Please check our event on Facebook for more details on the shirts.