Box Brief
24 Heroes in 24 Hours Fund Raiser for Haven
Normal Schedule, workouts change every class time.
Donate Here
WHITEBOARD BRIEF
— Ardmore & Wayne —
5:00a, 5:45a, 8:45a, 9:30a will complete: Shawn Powell & Helton
**Wayne Only 4:30 & 5:30 will complete: Griff & Randy**
CROSSFIT & ENDURANCE
On May 24, 2019, The Main Line CrossFit in Ardmore, Pennsylvania, will host the 7th Annual 24 in 24 event: 24 Heroes in 24 Hours.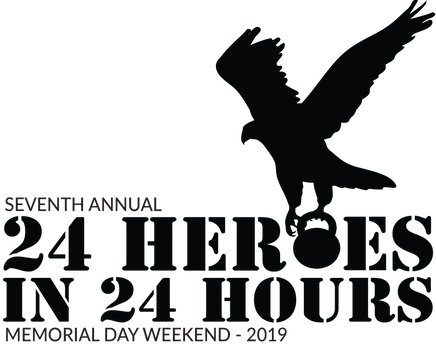 YES, we said that right:  SEVENTH ANNUAL 24 in 24.
Starting at 09:30 on Friday the 24th, athletes will perform a "Hero WOD" every hour for 24 straight hours.
This 24 hour event serves as a fundraiser for HAVEN – formerly the Philadelphia Veteran Comfort House. HAVEN is a transitional housing program providing a safe haven for female Veterans to start over and become productive members of the community.  Using the military tools of structure, discipline, integrity and commendation, we work to restore self-confidence in the pursuit of the civilian goals of solid employment and secure permanent housing.
All ticket sale proceeds will be donated to the HAVEN.
About the 24 Heroes in 24 Hours: 
The Hero WODs from CrossFit are named after Heroes who have given their lives in the line of duty – military or civilian.   Each workout is hard, heavy, and long. This IS NOT an easy event. ​
***We will finish the 24 hour event with "MURPH" at 0830, Saturday morning.  This final workout is completed AS A GROUP – not an individual event.  Nobody REALLY wants to do "Murph" after working out for 23 straight hours, do they?  🙂
There is NO expectation that all athletes perform ALL WODs.  This is a fundraising event FIRST, Endurance event second.  We want lots of participants to sign up so that we can increase the overall donation amount to the HAVEN.  Of course, we would love to see you knock out as many WODs as you want to safely perform.  But we're here for what the event MEANS more than the physical challenge of 24 separate HERO WODs.
All Athletes should come prepared to tackle any workout and familiarize themselves with the basic components found in the Hero WODs:  Bring your running shoes (there will be several miles of running – sometimes 400 meters at a time), weightlifting belts, weight VESTS (if you have one), wrist wraps, change of clothes and socks, calf sleeves (yup, there are rope climbs) and anything else that helps to get you through two dozen high intensity workouts.
As with the last SIX years of this event, we will have a "team" format available:  this allows for teams of up to four athletes to share the workouts and distribute the movements among their teammates to complete the WOD.  The first six WODs will be individually performed, the next six as a team, the third set of six again as individuals, and the final six will be team efforts.  MURPH, the final WOD, will be completed as a team with all remaining athletes grinding out the last 2 miles of running, 100 pull-ups, 200 push-ups, and 300 squats.
All athletes and participants will be required to sign a liability waiver from our home box – CrossFit Main Line – prior to engaging in any of the workouts.  No exceptions.  This event is NO JOKE.
THE WOD  LIST  IS LIVE!  
    7th Annual 24 Heroes in 24 Hours    
— Friday 5.24.19 —
1 09:30 Shawn Powell
2 10:30 Helton
3 11:30 JT
4 12:30 Brenton
5 13:30 Tillman
6 14:30 Emily
7 15:30 Trevor (team format)
8 16:30 Griff
9 17:30 Randy
10 18:30 JJ
11 19:30 DG
12 20:30 McGhee
13 21:30 Lumberjack 20 (team format)
14 22:30 Chad Regelin
15 23:30 Viola #2
— Saturday 5.25.19 —
16 00:30 Richard Prunty
17 01:30 The Don (team format)
18 02:30 Choe
19 03:30 #343 (team format)
20 04:30 Zachary Tellier
21 05:30 Ship (team format)
22 06:30 Three Wise Men
23 07:30 Jenny
24 08:30 Murph (all hands on deck)