It's not all roses and rainbows in training and life. You're gonna get hit with adversity even if you're doing 'everything right.'
In training or sport, it's not uncommon to have set backs. And no matter what it can be hard to deal with both physically and mentally. BUT…
Instead of agonizing over what you can't do and what's out of your control. Why not focus on what you CAN DO and what you can still control (no matter how 'small').
No doubt it's hard to deal with setbacks but don't make it harder on yourself by focusing on things you can't control. Put that valuable energy to good work by zeroing in on the things that are still well within your control.

THE WEEK AHEAD:
Mon: Strength: Deadlifts, Workout: AMRAP 10: Library TNG Deadlifts, KB Swings, Double Unders
Tues: Strength: Bench Press, Workout: 6 Sets: Cal Bike, Pull-Ups
Wed: Strength: Ground to Overhead, Workout: Ground to Overhead, Burpees
Thurs: Strength: Back Squat, Workout: Front Squat, Slam Balls, Sit-ups
Fri: Workout: AMRAP 7: Box Jump Overs, Ring Dips, DB overhead lunges, Push-ups
Sat: Workout: TNG Deadlifts, Kip Swings, Chest to Bar Pull-ups
Sun: For Time: Double Unders, Cal Row, Alt. V-Ups, DB Thrusters
#MAINLINEMONDAY; CFML'S HIGH POWERED OPEN GYM WORKOUT OF THE WEEK:
FOR TIME
1500/1250 Meter Row
… immediately into …
6 ROUNDS
6 Bar Muscle-Ups
6 Box Jumps (30/24)
… immediately into …
1500/1250 Meter Row
Scaling Options:
Sub Muscle- Ups for Chest to Bar, Pull- Ups, or Jumping Muscle Ups.
Double Reps for Ring Rows
Lower Box Jump
Double step- ups
Some advice from the coaches:
1. Settle in for 6:00-6:30 on the rows, that's a lot of time on the rower total. 80% pace start to finish.
2. Keep BMU in two sets or adjust to lower number to keep unbroken.
3. Box Jumps are the rest. Take them slow, step down safely.
#TUESDAYTREAT;
Arrives in your inbox every Tuesday Morning. Check here
#WHATSNEXTWEDNESDAY;
Our Wayne summer schedule begins this week.
Our Ardmore summer schedule begins 6/20. Check Wodify for updates.
#SPOTLIGHTTHURSDAY;
TEENS CLINIC
(Mon/Wed/Fri) 12- 2pm
HIP MOBILITY AND SHOULDER MOBILITY CLINICS
With Josh Finley PT
Squat Mobility clinic @Ardmore
Shoulder Mobility clinic @Wayne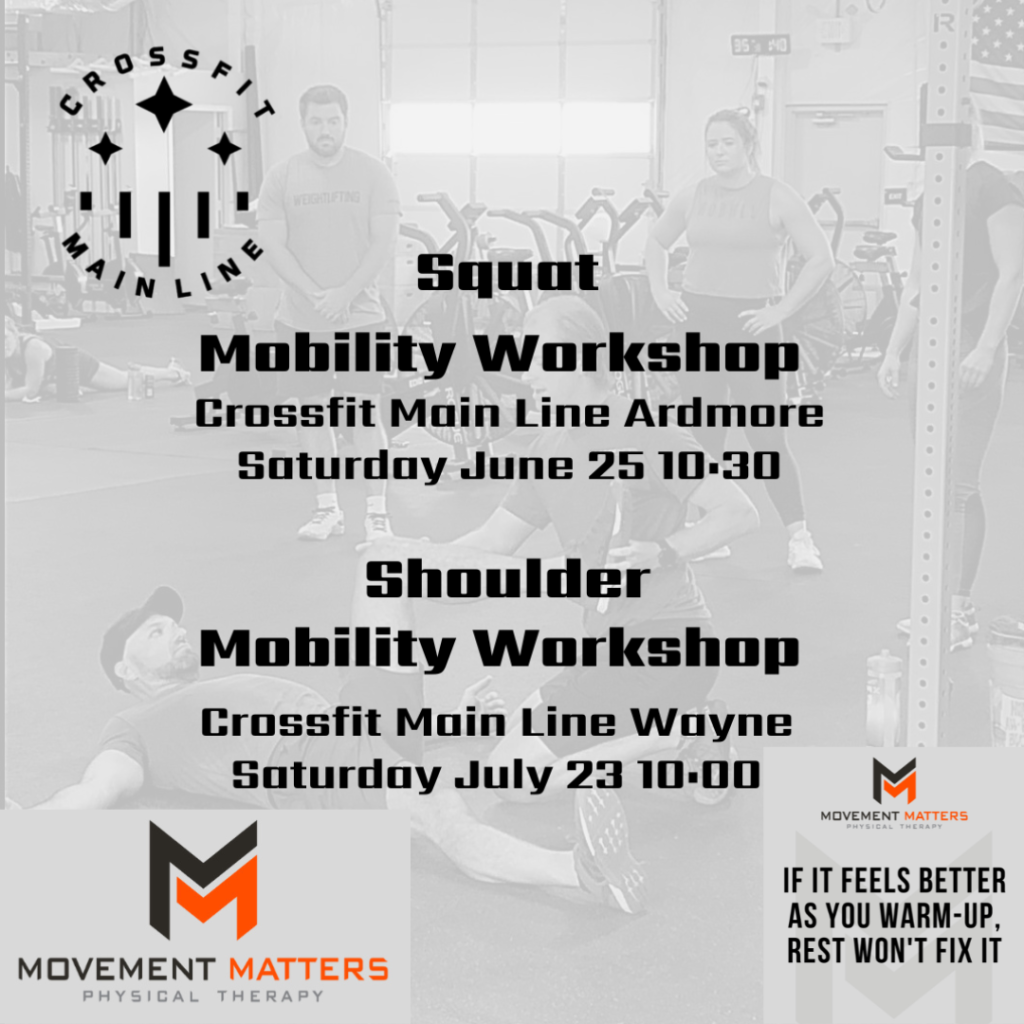 #FEARLESSFRIDAY; CFML'S CALORIE TORCHING, MUSCLE BUILDING WORKOUT OF THE WEEK:
Workout
3 SETS
AMRAP x 7 MINUTES**
14 Box Jump Overs (24/20)
7 Ring Dips
14 Single DB Alt. Overhead Lunges (50/35)|(35/20)*
7 Hand Release Push-Ups
-Rest 1:30 b/t Sets-
**Pick up where you left off in each AMRAP.
For the workout the overall goal is to find weights that will help athletes establish a nice pace to limit break times. Athletes should shoot for unbroken reps and match the effort across all three AMRAPs.
Get ready to get the shoulder lit up on this workout. The Box Jump Overs should go by quickly but as the workout progresses the legs will fatigue and the heart rate will spike. The Ring Dips will be the movement where athletes will have the biggest challenge once the triceps light out and the shoulders tire out. The Single DB Alt. Overhead Lunges will get spicy and hard to stabilize once the shoulders fatigue and breathing gets heavier. The Hand Release Push-ups will be challenging due to the effects of the Ring Dips but the low amount of reps should save athletes from spending too much time here.
#SHOUTOUTSATURDAY;
Wishing Jenna a happy and healthy maternity leave. Don't worry Wayne, she'll be back soon!
#SELFCARESUNDAY;
Absolutely loved the banded shoulder stability from last Friday's programming? Then you'll love the ❄️ snow angel ❄️, demonstrated by Josh Finley PT. See it here.
Book a session with Josh at Wayne or Ardmore
Bio Hacking 101 with Dr. Seema Bonney;
Get the most out of your wod by recovering vitality with specialized age mgmt & anti-aging protocols that focus on a preventative & proactive approach to health, With Dr. Seema Bonney. Enjoy this series of articles to start bio hacking at home.
Stuff your coach is reading, hearing, watching, using or buying

Where To Put Your Feet on The Assault Bike
Do you get a sick feeling when you think of the Assault Bike? This conditioning tool has played a part in some of the worst workouts ever conceived, but there are ways to make it better. See how a small difference in your foot placement can create huge increases in your power output.
MAKE IT STOP.

Your Pistol Squats
Have you been working at ankle mobility for so long and still can't do a pistol? What if we told you ankle mobility might not be what's holding you back? Check out this video for a list of other possible issues hindering your ability to do a pistol.
NO PISTOLS AT DAWN.

What The Heck Do You Eat After A Workout?!
The work isn't done when the work is done. The post-workout period is a fantastic opportunity to maximize your recovery, fuel adaptations, and to set yourself up for your next workout. Here are the things to consider when you're choosing that all-important snack.
SNICKERS AND GATORADE, RIGHT?

Tucking Your Toes
It may seem like a good idea to get them out the way, but this fault is killing your jump, and therefore, your double unders. For smoother, more efficient reps, watch this quick guide to correct your jumping technique and forever rid yourself of the dreaded toe tuck.
DOUBLE UNDER DUBS.