ONE THING TO TRY THIS WEEK:
Walk More.
It's that simple. Nowadays, everyone has access to a wearable device or mobile App that can count their steps. Set a daily goal for yourself, ideally in the 8,000 to 12,000 step range, and commit to hitting that number every day this week. Or jump into our October Challenge!

THE WEEK AHEAD:
Mon: Workout: Run, Bike, Weighted Step-Ups
Tues: Strength: Power Snatch, Deep Hang Power Snatch, Workout: Row, Power Snatches, Up-Downs
Wed: Strength: Front Squat, Workout: Rope Climb, Front Squat, Box Jump Overs
Thurs: Workout: Strict Pull-ups, Bike/Row, Toes to Bar, Kettlebell Static Hold
Fri: Strength: Power Clean, Deep Power Clean, Workout: Double Unders, Deadlifts, Hang Squat Clean & Overhead, Handstand Push-Ups
Sat: Workout: Bike, Sit-Ups, Backrack Alt. Lunges, Burpee Box Crawl Overs
Sun: Strength: Bench Press, Workout: Chest to Bar Pull-Ups, Overhead KB Carry, Russian KB Swings
#MAINLINEMONDAY; CFML'S HIGH POWERED OPEN GYM WORKOUT OF THE WEEK:
Today's workout is programmed by two-times Games Athlete Jayson Hopper.
3 Rounds For Time:
9 Bar Muscle-Ups
12 Calorie Row
18 KB Hang Snatches
Rest 3 Minutes, then 3 Rounds of
9 Double KB Thrusters
12 Calorie Ski Erg
18 Chest to Bar Pull-Ups
Scaling Options:
• Scale the 9 BMU to Toes 2 Bar, or BMU transitions using a bar and the rig
• Choose a weight that you can complete the KB movements unbroken
Advice From Our Coaches:
Break the gymnastics up into manageable sets from the start. Push the Calories on the Row / Ski Erg more than you want to.
#TUESDAYTREAT;
New members $100 off your first month. Check your inbox this Tuesday to claim the offer. Check here
#WHATSNEXTWEDNESDAY;

October Challenge!
Are you looking to jump start your post summer fitness? Join the community in our October 3k Cal Challenge. In the month of October, accumulate 3000 calories across any machine. Calories in WODs count and you can participate before or after class, at your own home gym or even during open gym! Simply sign- up old school style on the whiteboards at your most frequented location.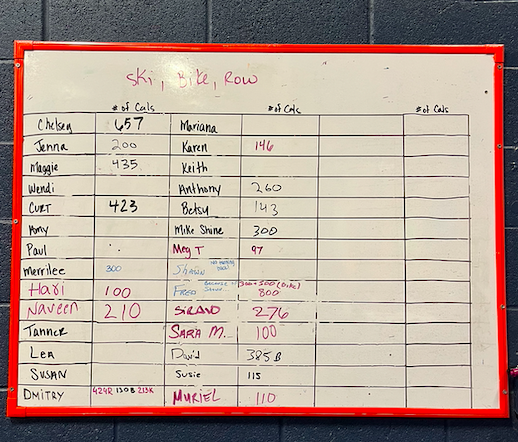 #SPOTLIGHTTHURSDAY;

Youth programs are hosting a Bring a Friend day and a Family Fitness Day
WAYNE
Bring a friend day – Saturday 10/8 for both kids and juniors
Earn a free month when your friend signs up.
Family Fitness Day – Saturday 10/22 for all programs and families
All families are welcome – parents, siblings, aunts, uncles, neighbors!!!
This will be a partner workout and will be appropriate for all fitness and ages levels!
ARDMORE
Bring a friend day – Saturday 10/15 for both kids and Juniors
Earn a free month when your friend signs up.
Family Fitness Day – TBD after the big move!
#FEARLESSFRIDAY; CFML'S CALORIE TORCHING, MUSCLE BUILDING WORKOUT OF THE WEEK:
"THE FIFTH ELEMENT"
5 ROUNDS FOR TIME
50 Double Unders
10 Deadlifts (135/95)|(95/65)
5 Hang Squat Clean & Overhead
10 Handstand Push-ups
100m Run
Advice from our coaches:
1. Choose a weight on the barbell that you can complete the 5 Hang Squat Cleans & Overhead unbroken when fresh.
2. If you do not have HSPU use pike push ups or push ups
#SHOUTOUTSATURDAY;
CFML – Wayne: 4:30pm Tuesday adult group class is back! Sign in on Wodify.
CFML – Ardmore: Don't miss your 1pm meeting! We now offer an 11am CrossFit class on Fridays beginning Oct. 7th.
#SELFCARESUNDAY:

Retail Spotlight! Have you checked out our beverages lately? We have Nirvana Waters now available! This water strengthens muscles and bones with infused HMB and vitamin D3, it reduces muscle recovery time from exercise, soreness, and injury, and decreases muscle loss and degradation from activity and aging.
Stuff your coach is reading, hearing, watching, using or buying

Barbells Cycling Tips from Mat Fraser
Want to cycle a barbell like 5x Fittest Man on Earth Mat Fraser? Yeah, us too. But at least he is giving us tips so we can try to be ⅓ of the athlete he is!
TIPS FROM THE GOAT.

Knuckles Up
When it comes to benching, everyone has their own style. Regular grip, close grip, narrow grip, incline, decline… you name it. But regardless of what type of benching you are doing, this simple coaching cue can help you put up some more weight.
KNUCK IF YOU BUCK. 

Stringing Together Toes to Bar
Struggling to string together your toes to bar? Still doing a little mini kip in between each rep? See if this common toe to bar fault could be what is keeping you from hitting multiple reps at a time!
STRING EM.